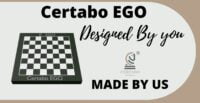 LEGENDA
Please read details below.  Your skecth or actual layout can be upload at any time. You will find upload button link in your account/order.
Size of the board: 
Please select the size of board you like, Download
Checklist
and relative template
COMPACT.:….
Board size 36cmx 36cm – 35mm square……….

Compact 35mm Template
MEDIUM:……..
Board size 44cm x 44 cm – 45mm square……..

Medium 45mm Template
STANDARD
:….
Board size 50cm x 50 cm – 55mm square ……

Standard 55mm Template
Color of the borders
Check, among available colors, the one which may fit best your design or ask for custom one
Trasparent……..transparent varinishing
Light Brown……light walnut/light red cherry
Yellow Oak…….. light yellow Oak
Red Mahogany….red mahogany
Black Ebony…….. pure black ebony/wenge
White……………….. pure white
Custom………………just write us
Professional design option
All uploaded designs will undergo basic check for printing quality and it is included by default .
No Aid:……………………….No further check will be performed
Professional check:……Includes a deeper analysis of the layout to double check iusses, mistakes or actual desired features.
Professional layout…….Peace of mind Strarting from your hand made sketch or idea our designers will draw the layout and will submit for your approval