3D Printable 2,5" Staunton pieces
Download the complete set clicking on the bottom link, it will download all pieces in .stl format ready to be printed
3D Printable 3,5" Staunton pieces
Download the complete set clicking on the bottom link, it will download all pieces in .stl format ready to be printed
3D Printable 3,75" Staunton pieces
Download the complete set clicking on the bottom link, it will download all pieces in .stl format ready to be printed
3D Printable 4.0" Staunton pieces
Download the complete set clicking on the bottom link, it will download all pieces in .stl format ready to be printed
Certabo Software
PC VERSION Release 2.90 17-Aug. 2019
Download the latest 2.90 release of software.
Download 64 bit Certabo Chess 2.90 for PC
Download 32 bit Certabo Chess 2.90 for PC
New features include:
1) This release has some general improvements and handles now opening books. What you need to do like for engines just drop the .bin opening book files in the books directory. Any polyglot book is supported. You can download famous Cerbellum from here https://zipproth.com/Brainfish/download/ but very many are available on internet, just drop them in the books dir and they will apperan in the menu for selection.
2) We also added a modding possibility and instead running with double click on Certabo icon go in the Certabo directory and double click on Deep_Engine_Searching_Mode.bat this will launch a version with very high limit on depth so you will see as max depth the value stated in the file which by default is 50. Anyhow theoretically there is no limit on that value you can open the file with any txt editor and change 50 to any wanted value. Remember if you want to enable the syzygy tablebase you need to activate them creating in users\youruser\AppData\Local\Certabo\GUI\ an additional directory called syzygy and putting there your tablebase to have them properly loaded.
Previous releases can be found here
MAC OSx Release 2.7 03-Jan.2019
Download the latest 2.7 release for Mac-Os
Download Certabo Chess 2.7 for MAC
Instruction for Mac user
1) Unzip the file you will find two .dmg
2) First install drivers with a double click on Chessboard_drivers.dmg following the instruction.
3) Once driver are installed, double click on Certabo_Chess_Software icon and this will install the software. Connect the Chessboard to an usb port, go in the unit and double click on Runcertabo.command icon this will launch the software. Alternatively just open terminal and type ./run and press enter.
Raspberry Pi3 version 2.90
The Raspberry Pi3 Certabo software is now aligned to version 2.90! 1Gb syzygy endgame tablebase has been included, and opening books are also embedded for easy selection from menu.
Download the .img file and burn it onto an micro SD following instruction here. Please be aware the file is about 4 Gb and will take a while to download.
Certabo_Chess_Raspberry_Pi3_2.90
Please note that not all engines included support the Random Fischer mode. The 2.90 version not supported by Pi zero
Previous releases of Raspberry Pi versions can be found here
Instruction manual Certabo software
Download the instruction manual in the desired language
Certabo app
IOS Apple
The IOS app for Iphone and Ipad which allows to transform and use the screen of your Iphone and Ipad like remote display for Certabo chessboard when connected to Pi download it from Apple store.... Link to Apple store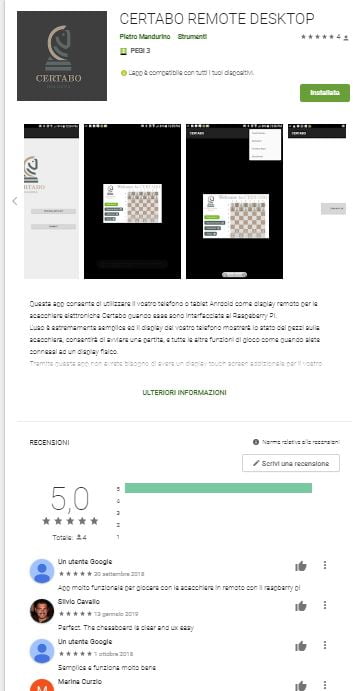 Android
Android app which allows to transform and use screen of your phone or tablet into a remote display for Certabo chessboard when connected to a Pi, download from Android store..... Link to Play store