Black Friday to Cyber Monday deal!
Additional set of chips for free for each chessboard ordered and free delivery on all orders above 100 eur to Italy and Europe during the black Friday week-end. Don't miss this deal ordering one chessboard until 23.59 of Monday 26 -Nov. you will get an additional set of chips so you can create two different sets using your own pieces and you will benefit of free delivery to everywhere in Europe. All orders will be shipped by DHL. Use this coupon Free_EU_Delivery during checkout. Go to Shop
18-Nov. 2018 22° Open Semilampo city of Modena
Follow online games on Certabo broacasting site at the following link broadcast.certabo.com
11-Nov.-2018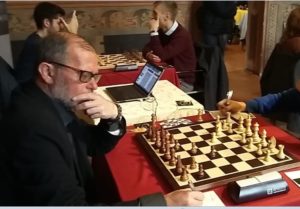 Great success for Certabo chessboards during the 2° International Chess Tournament of Vignola (MO). Certabo chessboards have broadcasted internet live game between international GMs Kantans, Solomon, Rombaldoni, Stella Efimov and several other IM and FM. See and play the game at this link Vignola 2018. Vignola has set a record with 293 players, our congratulation to the organiser Club64 Chess Modena Association for the awesome job done and a thank for the support given during the whole weekend. More pics here
06-Nov.-2018
Certabo software can now supports user UCI engine and multiple chessboards on single PC
New nice features! Support for user UCI engine has been introduced in PC software. Just copy your UCI engine in the engine directory and simply select it from menu. Multiple boards support on single PC has also been added! Now with just one PC you can run independently several Certabo chessboards in parallel. This feature is adding very interesting option for tournaments and teaching as several human vs. human games can be logged at same time with single PC available on download page
16-Oct.-2018
Certabo chessboards are now supporting Houdini 6, Fire 7.1, Leela Chess Zero, Human game and .PGN export
Certabo PC software keeps growing !! The software was further improved and it's now supporting four of most powerful chess engines including the Leela Chess Zero the very new chess engine based on neural network software, the monitored and recorded human vs. human mode and finally the .pgn export of all games... read more
CERTABO is our brand name but in Latin it also means "will compete".
CERTABO is complete range of electronic chessboards with automatic pieces recognition which allows playing against strong chess engines on PC or other peripherals but on stylish traditional wood board designed and manufactured in Italy.
CERTABO chessboards are provided by default with 34 electronic self-adhesive electronic chips. You can transform a standard chess set into an electronic one just by sticking the chips to your preferred chess set whichever it is wood or plastic, and you are ready to play straight out of the box against the most powerful chess engine with the provided software.
CERTABO is anyhow more than that: the sophisticated hardware platform allows fast piece recognition and makes that information available on an open communication protocol for a simple interface to your preferred chess engine and computational hardware.
CERTABO chessboard will always be there to follow you and make your game unforgettable today like tomorrow but always stronger than yesterday. read more on about us.
Have fun and join Certabo community!
Sincerely
The CERTABO Team